Profile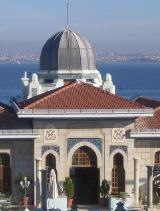 The firm has unique know-how of German-Turkish business and legal relationships which is being continually expanded upon by the team lead by senior partner Prof. Dr. Christian Rumpf. Our experience benefits clients both large and small from all over Europe and the US, including big businesses in the automotive industry, banks, insurance companies, the plant construction industry and power companies – not only in the firm's core business area but also in other fields of international business. German and international law firms in Europe and the US turn to us with specific questions concerning our areas of expertise so they can better help their own clients.

RUMPF LAW FIRM has its head office in Stuttgart. In the Istanbul office, RUMPF CONSULTING FIRM works hand-in-hand with Turkish attorneys and tax consultants. The firm has a highly proficient network of law firms at its disposal in various locations in Turkey, most notably in Ankara, Izmir and others.

Working in collaboration with several German firms in various locations in Germany, RUMPF LAW FIRM also offers competent consultation and litigation in the most important areas of German and European commercial law.