Real Estate Law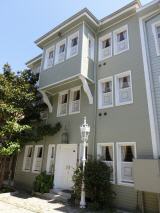 Real estate law has gained considerable importance in Turkey with the rise in foreign investments. More and more, Turkish real estate can be used for security reasons.

Turkish real estate law, however, differs from German law in many respects. Similarities to Swiss and Spanish law exist. There are still restrictions on the purchase of real estate by foreigners. Irrespective of existing regulations, uncertainty is created by circumstances which often have irrational origins.

The purchase of real estate by Turkish capital companies with foreign equity participation is a special case, however. The legal situation suggests that the purchase of real estate should be completely unproblematic for such companies. However, this is not the case in practice. At times, bureaucratic hurdles with dubious legal foundation lead to obstacles for foreign investors which are difficult to comprehend.

With some practical and judicial imagination, however, solutions can be found. Our own consulting firm in Istanbul, RUMPF CONSULTING, supports our clients in their search for suitable property and with the formalities of acquiring real estate in Turkey, in addition to helping them with fiduciary management.

In collaboration with the attorneys and notaries at Dr. Gaupp & Coll., we also support our clients in Germany in all matters concerning real estate law, from consultation to certification by notary public.